The National Anthem played May 3rd, 2014 at the West Lawn of the US Capital where thousands gathered and made history at the One Million PIBBLE March.  To listen to the audio, click play: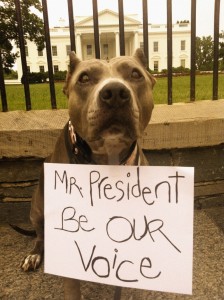 On May 10th, 2013, Rebecca Corry photographed Angel in front of the White House with a sign taped to her precious chin that read "Mr. President Be Our Voice." On May 12th Rebecca announced at a sold out Stand Up For Pits in Arlington VA, that she would march on Washington to give millions of voiceless victims the chance to be heard.
One year later, almost to the day, thousands marched in the One Million PIBBLE March on Washington dc and rallied at the US Capital West Lawn. History was made and voices were heard. Angel and the millions of perfect souls like her are and will always be the inspiration for the work Rebecca and her Stand Up For Pits Foundation are doing and will continue to do to until the abuse and discrimination of Pit Bull Terriers ends.

WHY WE MARCHED
We marched on Washington DC and rallied on the West lawn of the US Capital to give millions of voiceless victims a voice. Thousands gathered from all over the world and became one loud voice demanding an end to the discrimination and abuse of Pit Bull Terriers.  The purpose of this historical event was to inspire, educate and create safer, more humane communities for humans and pets.  Abuse and discrimination is wrong.  Whether the abused has two legs or four, it is wrong and goes against the very fiber America was built on.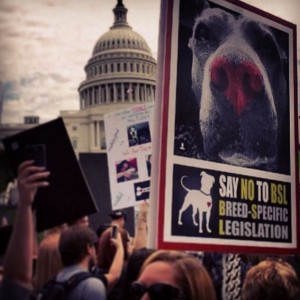 Now, more than ever before, broken young people all over this country are committing sociopathic acts against innocent voiceless beings.  Time and time again, studies have shown that people who commit violent acts against animals will likely and most often times do, go onto commit violent acts against humanity.  The breed being victimized by this abuse more than any other breed on earth, are Pit Bull Terriers.  Dogs that are loyal, loving, gentle and smart being forced to fight till the death.  The average age of dog fighters are 13-21 years old.   Questions to consider; What happened to them?'  Why are they so broken?  How do we help?  To "ban" a breed is not a solution but rather an ineffective way to try and fix what is an obvious reflection of a broken society.
The epidemic that is happening in our own backyards can no longer be ignored.  Whether you like Pit Bull Terriers or dogs at all, as a member of society this is all of our problem. Through education and effective solutions we can fix this social pandemic and provide a safe society for future generations of humans and animals alike.  It is time legislators recognize that discrimination enshrined in law is wrong,  factually ineffective and will no longer be tolerated.
CELEBS WHO SUPPORT THE ONE MILLION PIBBLE MARCH
Back to Top
PRESS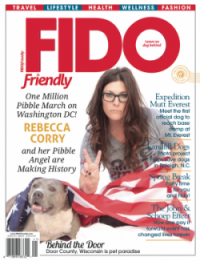 To read the full Fido Friendly Article CLICK HERE!

"One Million Pibble March: Rebecca Corry, Founder of 'Stand Up For Pits,' Plans March On Washington"
READ FULL ARTICLE HERE

Obama Comes Out Against Dog Breed-Specific Legislation, Joins The Fight For Pit Bulls
READ FULL ARTICLE HERE
Rebecca Corry interview in Cesar Millan's online magazine 'Cesar's Way'
READ FULL ARTICLE HERE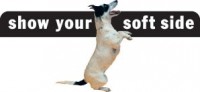 LOVE this piece of press on the march!! A must read. So well said.‪
READ FULL ARTICLE HERE
VIDEOS
Cesar Millan's Message for
the One Million PIBBLE March:
Rebecca & Angel's Entrance
onto the West Lawn of the US Capital:
One Million PIBBLE March
on Washington DC:

Mark & Jamie Buerhle tell their story
& why they support the PIBBLE March:
Bryan & Amanda Bickell Support
the PIBBLE March:
PHOTOS
Check out the majestic collage of all our PIBBLE March supporters with their One Million PIBBLE March T-Shirts! Click to enlarge.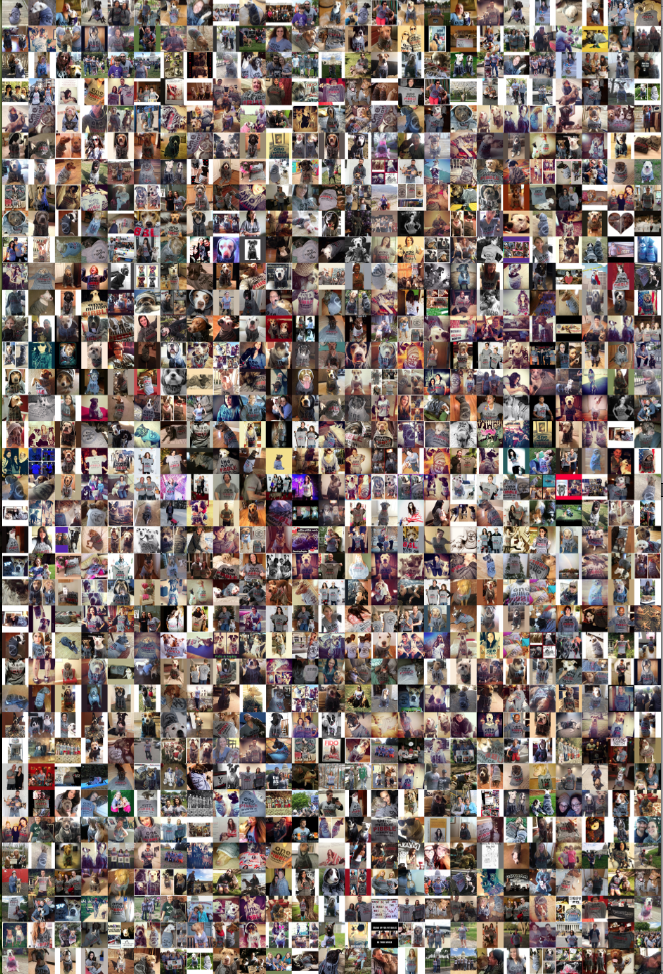 ONE MILLION PIBBLE MARCH
SPEAKERS:
John Rallo
Roo Yori
Stephanie Doris
Leah Brewer
Kelly Steinhorn
Jamie Buehrle
Rebecca Corry
Host: Chris Williams
ONE MILLION PIBBLE MARCH ON WASHINGTON DC SPEECH
by Rebecca Corry
Almost 6 years ago a Pit Bull Terrier named Angel, who had endured years of horrific abuse came into my life and changed everything. Angel is the very reason each and every one of you are here today. She is also living proof that Pit Bull Terriers are, in fact, born inherently good. If Angel could speak, she would speak with love, grace and intelligence. But she can't. So, today, and forever, I will proudly be her voice and the voice of millions like her. That said, I am unable to sugarcoat the truth, and I like to swear. I would like to start by saying that Breed Specific Legislation is bullshit. It is discrimination enshrined in law and goes against the very fiber our country was built on. It has no merit and is NOT okay . BSL is costing tax payers millions of dollars, it is ineffective and allows innocent beings to die because of appearance. This is NOT okay. Ripping Pit Bulls from the hands of our active military on our military bases and from loving homes is NOT okay. Genocide is NOT okay. For the past 3 decades Pit Bulls have been vilified by the media, and now uneducated myths live on in our social conscience and that is NOT okay. The dog fighting epidemic is worse now than ever before and that is NOT okay . Young Americans blessed with being born into a first world country of hope and opportunity are setting dogs on fire, fighting them, starving them, hanging them, shooting them, drowning them, mutilating them. This is NOT okay . These abusing sociopaths are EVER YWHERE. They live in every community . They are every race. They are in every tax bracket. They are in every culture. They must be identified. They must be stopped. And they must be punished. This is our country . These are our communities and we must take them back.
We are here being the voice of millions of voiceless victims and we are getting louder. We are the majority. An event of this kind has never been done before and you got off your asses and you showed up. Proof that we are sick and tired of needless death and hate. You believed in the unknown, something different, and I am honored to stand here with you. BUT… let us be reminded that it is us, our breed. The two legged kind. It is our species who has created an incomprehensible mess of epic proportions. Pit Bull Terriers are not to be feared. It is humanity that should be feared. There is nothing more dangerous than a hate-filled ignorant human. The One Million PIBBLE March On Washington DC is giving us a national platform to speak, to be heard, to educate. Today we are sending a message to legislators on federal, state and local levels that killing and banning the victim is not, and never will be, the answer. Today we are sending the message to people outside of the animal community that what is happening to Pit Bull Terriers is not just an animal issue but rather a broken human, a broken society, issue that is everyone's problem and will no longer be tolerated. Our goal is to reach EVERY ONE. When law makers understand that a human who abuses a dog will likely, and most often times DOES, go on to commit crimes against humans then, and only then, will those lawmakers do something. Those lawmakers need to understand that violence against a dog today is violence against them, their kids, or their loved ones tomorrow. This is not a theory. This is a FACT. I am shocked by how many people don't even know BSL exists in America and how many Americans think dog fighting ended when a cowardly mediocre football player got caught. Two pieces of human garbage (teenagers) set a Pit Bull puppy on fire 5 years ago in Baltimore. They laughed as the puppy died. They were tried, they were acquitted. One year later, one of the monsters went to prison for attempted second-degree murder. If something would have been done then, perhaps tax payers wouldn't be stuck with the bill of keeping him alive in prison. America houses the most prisoners than anywhere in the world and the common denominator amongst inmates on death row, regardless of ethnicity, or crime committed, is that they, at one point, all tortured, mutilated, or murdered an animal. It is time for America to WAKE UP and I will keep being that annoying alarm clock.
It is my belief that we will never rescue our way out of this mess. If we are to end the murder of millions each year in our country, we must think, we must speak, and we must behave differently or we will be on this giant hamster wheel for another 3 decades. I'm considered a member of the animal community but I consider myself a member of society first. I'm an American who believes abuse and discrimination is wrong whether the abused has two legs or four legs, it is wrong. I don't advocate to make friends or for a pat on the back. I do this to save dogs. That is my agenda. To inspire and empower others to do the same and stand with you as the voice of the voiceless. I must take a moment to address my experience over the last year as organizer of the PIBBLE march. It was my experience, aside from dealing with open mouthed breathing mentally stunted Pit Bull haters, that some members of the animal communities behavior was no less deplorable. So-called animal lovers refusing to come today because Barack Obama was invited. We need everyone in this together. This is EVERYONE's problem. I understand the front lines. I understand how heartbreaking, hopeless, and frustrating it can feel but we need to stand together to save lives. And you people, the ones with compassion and intelligence, are making that happen by being here today and if others, who are apparent "like minded" animals lovers and advocates, don't like you or try to detour you from saving lives or shoot down your ideas or attempts at different approaches… then fuck 'em. They're poison and they are killing our dogs too.
People trying to put an end to Pit Bull Terriers are at a low level and need rescuing too. Sadly, trying to reason with a dumb person is like asking someone with no arms to give you a hug. Lets make a pact today… Do NOT respond to them. Do NOT repost them. Do NOT see them or even hear them. They do not deserve one precious moment of your time, genuine hearts, or energy. We must understand the power we have. We are fortunate enough to live in a day and age where we can reach millions within seconds with a push of a button. Where we can record and post and share and click and sign. We can reach our law makers, we can reach decision makers and we can be heard. But we have to be smart. Think about what you post. Think about the message you're sending before you send it. The posting of non-stop horrific images, negative stories and videos, is not effective. People who are not aware of what is going on will block you and delete you because they simply can't handle it and I don't blame them. I can't handle seeing it. I'm not saying never post a photo that may be of graphic nature, but if you do so, have a reason. Have a story. A goal. Have a point. And then post how people can help. Post solutions. Organize a rally. A meet-up. Start a petition. Target a certain aspect of the cause and offer solutions. I have never witnessed a single person sit through the ASPCA Sarah McLachlan commercial in its entirety. Horrific images and tugging at people's heartstrings has a place and has managed to raise lots of money and do lots of good, but I believe there is more power in positive education. How about a commercial that tells people what to do if they find a stray dog? Or what someone should do if they suspect a neighbor is abusing their dog? Or how to get spay and neuter vouchers. Or how to volunteer or become a foster. Start a program in your community to help end dog fighting and get to potential dog fighters before they start doing it. Provide people with information and direction on what they can DO. There are more good people than bad and people want to help, they just don't know how. So lets tell them. Today we took a chance. Today we did something new, something different, and it has resulted in a national and international movement. We must continue to break ground and keep doing better. It is my dream to one day look back at the past 3 decades of abuse, discrimination, and death as a shameful period in American history that is never to be repeated. I am honored to stand here with you all on this historical day and walk together with you into a future of solutions, forward thinking and positive education and by doing so create safe and humane communities for humans and pets. May God bless my Angel, may God bless you all and God bless America.
We Thank the Official One Million PIBBLE March Sponsors!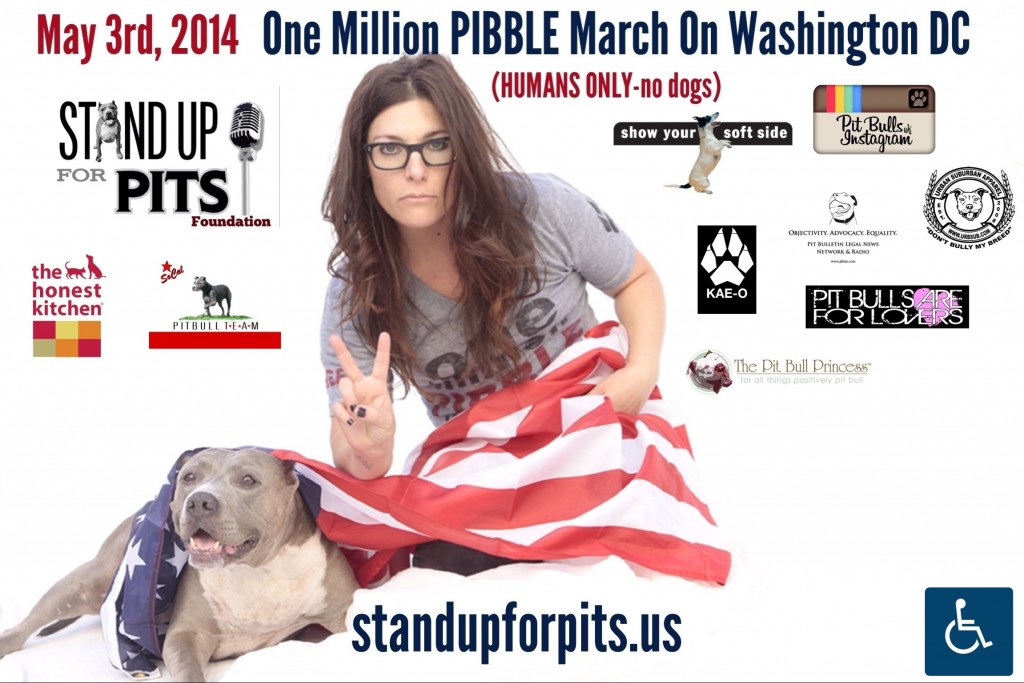 NEVER FORGET 5.3.14

Moments after arriving on the West Lawn, the PIBBLE March came to a screeching halt as Angel dropped a deuce of epic proportions. As soon as she finished, thousands screamed and cheered. It was one of the funniest moments ever. The day after the march, a placard was placed at the site of the historical deuce. WELL DONE ANGEL!! Your message was sent loud and clear. BSL and DISCRIMINATION IS CRAP!