We believe ALL life matters. No matter what age or obstacles there are. A life is a gift and it is to be respected to the end.
We want to thank each and every one of you who have purchased a t-shirt, made donations, supported the Foundation in the ways you can, and for selling out all the live events around the country. There is no such thing as a small contribution. They all matter and they all go towards our efforts to save lives through frontline rescues, donating to groups and individuals with dogs with medical/rehabilitation needs, educational programs and our many advocacy efforts.
There is an overwhelming amount of work to be done but much has been accomplished in a very short time and we look forward to being and creating the change we want to see and doing it with all of you. We are so inspired by all the work many of you are doing after attending the PIBBLE March on Washington. You guys are amazing Pibble loving people and dedicated to being their voice and that is exactly what it takes. We will continue to fight abuse and discrimination with you because simply put, there's no place for it. Doing nothing is not an option.
These are just a few of the Stand Up For Pits Foundation success stories. Thousands of Pibbles and humans alike have benefited from the work the Foundation does. One of the many messages the Foundation sends and believes in is that people need to empower themselves – take matters into their own hands (examples on What Can I Do?). People must stop relying on rescues and shelters to handle everything and instead, do what they can to make change happen. The Stand Up For Pits Foundation has inspired others to do live events, organize marches, start petitions, place stray/found dogs on their own, report abusers and dog fighters, and be heard. By doing these things, we create safer and more humane communities for humans and pets.
"We are all in this together. This is EVERYONE'S problem. We have the power to change it." -Rebecca Corry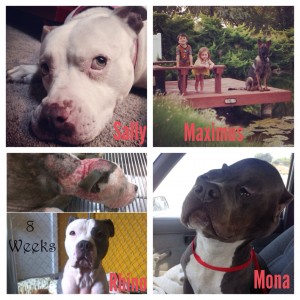 SALLY: a San Bernadino death row bait dog we pulled in terrible shape, coughing blood, infected, underweight, and in her foster's (Rock Reuben) words "wasn't sure she would make it." Well…he and his family did an amazing job and sweet Sally did make it and is now living a happy healthy life in Seattle Wa. with Rebecca Corry's sister and 3 beautiful kids.
RHINO: SUFP Foundation sponsored RHINO the Pibble's recovery through WAGS while she was fostered and loved for 8 weeks by her amazing foster dad, Josh Wilkins and his Pibble Buttercup. Rhino girl is now fully recovered and in a loving forever home with a rescue Boxer mix brother!
MAXIMUS: we pulled this six-month-old German Shepherd from the West LA shelter after being removed from a homeless convicted dog thief/abuser by some amazing citizens who took action. We placed him in a beautiful forever home in Salt Lake City Utah where he is learning to swim in his lake with his human brother and sister!
MONA: a two-year-old female Pibble surrendered by her owner. SUFP Foundation learned of her terminal and very serious condition and stepped up to help. We provided what was to be five treatments of Palliative Radiation in an effort to improve what days, weeks, or (if all went perfectly) couple months she had left. Sadly, after three treatments, Mona's health declined rapidly and Mona was laid to rest surrounded by an enormous amount of kindness and love in a home environment.
Click on the precious Pibble photos below to read just some of the many Stand Up For Pits success stories:
Click on the Photos below to read a few of the Stand Up For Pits Event Success Stories: