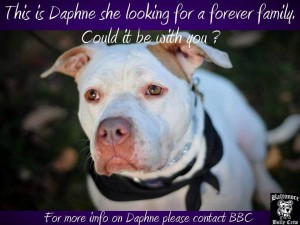 With the help of Stand up For Pits in 2013, Daphne was able to get the surgery she needed. Daphne came to us as a momma with 7 three weeks old pups. All the pups were adopted but Daphne was still looking for her home.
In March 2013 she was running in the yard when she suddenly started limping on her rear right leg. We took her to the vet which informed us she had a torn leg cruciate. After going to a specialist, we learned she would need surgery known as Tibial Plateau or TPLO to correct at the tune of $2,860 with our discount. We were stunned, this was going to be a HUGE financial blow to the rescue. Daphne needed to have this surgery done ASAP as it was affecting her quality of life. We have t-shirts available for donation but we would need to "sell" a lot of shirts to come up with that much money.
Because of Rebecca Corry and the huge success of Stand Up For Pits, we were able to raise the funds needed for Daphne to have her surgery. Daphne is doing well and is living in an amazing foster home with a canine brother who she adores.