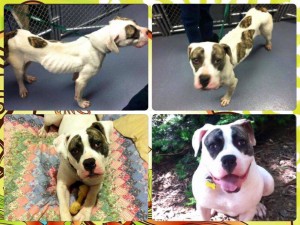 Meet Lucille, when her would-be foster mom walked into the shelter on Lucille's first full day as a shelter dog, you smelled her long before you saw her: a thick yeast stench pervaded the kennel from her red, raw inflamed paws. Within the coming days, she would lose all of her fur on her underside. But the condition of her skin seemed minor compared to her body: before us stood a large breed adolescent dog, literally, a 50 pound shaking skeleton.  In her new foster home, Lucille was not the adolescent puppy she should have been at her age. She spent her days laying in a bed covered in blankets, drinking buckets of water at a time, and being hand-fed nine cups of food over the course of the day. She was too weak to walk past the end of the two-car driveway or jump in the car on her own. 
After a month as a Bully Paws dog, Lucille was up to 75 pounds, on her second form of treatment for demodex, on her third round of different antibiotics, down to eating six cups of food a day, able to walk past the driveway and chase a ball in the yard. The bills for her care were adding up.  A portion of the donation we received from the Stand Up For Pits show in Arlington, VA was used to help pay down the vet bill for Lucille's care and to refill our food pantry.  🙂 
Luckily, life continued to look up for Lucille. Soft, shiny fur began to grow and a family started to fall in love with her.  When she was adopted, Lucille was 80 pounds, down to eating five cups of food a day and able to walk over a mile at a time or keep up zoomies and romps with her pit bull friends! She's found her "furever" home and she keeps them laughing with her silly, high-spirited antics.
Thank you, Rebecca Corry, the Stand Up For Pits Foundation, and of course, the lovely Angel for your generous support!
Candice Owens
Board Member
Northern Region Volunteer Coordinator
Bully Paws Pit Bull Patriots Inc.
http://www.bullypaws.org
Facebook:  http://www.facebook.com/BullyPawsRescue
Twitter:   @BullyPawsRescue
Founder and President
The Animal Shelter Project
Helping Shelters with the PAWticulars…