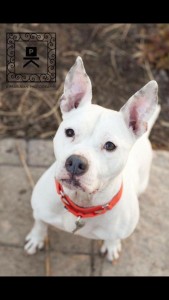 This precious hippo is Polly!! Polly was adopted in 2010 and returned a few months ago by the owners because of personal hardship. Polly is deaf, LOVES everyone and responds amazing to hand signals!
She is available through one of the many rescues SUFP supports, Bully Paws Rescue bullypaws.org and she will be attending Stand Up For Pits May 10th at the Arlington Drafthouse in Arlington VA.
Although the show is sold out we encourage everyone to come to the Pibble adoption from 4p-7p, donate items to the Donation Drive which benefit shelter animals in desperate need of supplies and check out the silent auction and merchandise all benefitting BBC and Bully Paws.
If you're not able to attend, please consider sharing Polly with others and let people know about the Donation Drive. There will be boxes and volunteers standing curbside to take your items starting at 4p! LA and SEATTLE's Donation Drives raised thousands of dollars worth of items that went directly to shelters. It makes all the difference in the world to the animals waiting to get that toy or blanket or extra treat. Lets do the same ARLINGTON shelter animals!! They need our help. Thank you all for your dedication to saving lives and standing up for Pibbles!!