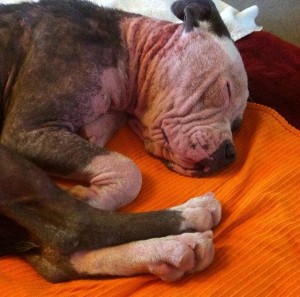 This is baby Rhino (although her amazing foster dad, Josh, calls her Sweetpea). Rhino came to WAGS (Westminster Adoption Group & Services, a no kill shelter in Westminster, CA) in January with a large adult female they believe was her mom, Charlotte. They were picked up by Animal Control wandering around the Big Lots parking lot. Starving and sick. Both with severe mange. They'd clearly been dumped. Charlotte had the worst mange one of the volunteers had seen in 18 years of rescue and sadly she ended up dying of pneumonia, leaving lil Rhino (maybe 2 months old) sick and alone. They put some weight on Rhino and treated her kennel cough and mange.
After 2 months Rhino was adopted by what appeared to be a sweet couple. WAGS provided them with assistance in continuing her mange treatment and waited for them to return to have Rhino Spayed. They brought back a mangled starving pup covered in mange worse then when she was taken in the first time. It was obvious she had been tied up outside for 2 months and ignored. Her collar had cut open her neck and her head looked like hamburger. Her belly and armpits had nothing but open sores. They acted as if she was fine! And dismissed the wounds by saying that a "chicken had pecked at her."
WAGS has begun the process to have charges filed against these people despite the apathy of local law enforcement officials. Despite the tremendous pain she was in, she still wiggled and kissed all of the familiar WAGS staff. Even worse, her first stool was nothing but birdseed and grass.
The vets began treating her immediately but she had to be sedated in order care for her wounds. 2 days later Josh picked her up to foster. A happy stinky bloody mess, but hands out KISSES for everyone. Bleeding everywhere as thick scabs ripped, she still wanted to jump and play, but fatigue has been the norm. Lots of sleeping, lots of curling up on her foster dad's lap, and if it's not available she snuggles with his precious Pibble Buttercup.
Rhino is about 6 mo now, barely 40lbs. She is eating well, taking her meds, putting up with painful medicine baths, and for the second time. Her foster dad, Josh, said, "the humans that tried to ruin the happiest, most attentive and loving dog have failed! It will take time and her lil body is fighting hard, but she will get better! Have no doubt!"
The Stand Up For Pits Foundation is helping baby Rhino on her long road to recovery. If you would like to help Rhino go to wagspetadoption.org to donate and be sure to write RESTOR RHINO in the notes section so it goes directly to her.
I will keep you all updated on this little hippo's road to recovery. #GoRhinoGo
RHINO UPDATE #2
The Stand Up For Pits Foundation is SO proud of the amazing work Josh is doing with precious baby Rhino as well as WAGS and we are so happy to be participating in the recovery of this velvet hippo and share her journey back to life with all of you amazing people!! 
Here is what Josh had to say:
"Finally wore her out! It's been an amazing two days. A trip to Petco, two trips to the park. (She loves car rides and will stop & sit in front of the door every time we pass my jeep in the driveway). We've gone two days without an "accident" inside and the meds aren't making her sick (can you say full blown puppy energy!!!) Our potty break walks which started as barely getting off the porch have turned into .25mile pack excursions and she is not nearly as alert or nervous and excited to meet new people.
She is also healing so fast (lots and lots of coconut oil) which makes everybody happier. Since day one she has slept on the bed with us and it is no longer a sticky mess. I was able to kiss her lil head for the first time today when trying to get her out from under the covers! Each day keeps getting better!"

RHINO UPDATE #3
Today baby Rhino girl got to meet her potential forever home brother, mom and dad. Here is what her foster dad, Josh, had to say about it:
"The intros went well and it looks like a PERFECT match. Rhino and Gunner hit it off right away. Gunner is also a WAGS alumni! Rhino will stay with me for the rest of her recovery (about a month), but if all goes well our lil girl is finally gonna get her happily ever after!!! I've got a few more weeks with Rhino and hopefully a few play dates so Buttercup can meet Gunner too!"
The Stand Up For Pits Foundation continues to be so proud of the great care and work Josh is doing and for the amazing progress of baby Rhino. We cannot wait to see her get her much deserved happily ever after and are thrilled to be a part of this amazing journey!