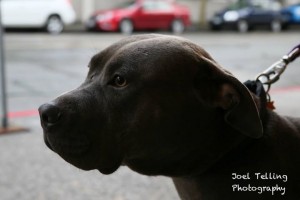 Meet Robbie. Robbie was an owner surrender – they were moving and could not keep Robbie. Saving Paws took him in so he would not be taken to a shelter and Robbie was placed with a wonderful foster family, who took him in as one of their own.
I took Robbie home with me after the Stand Up for Pits event Sunday in Tacoma so we could go do a home check and meet with his potential adopter. He walked in and met my brood (fluffy littles) and was kind and gentle with them all. Even the Willow the snarky Chihuahua who nipped at his foot – which was bigger than her head! He stole all of our hearts and even my husband wanted to keep him which is NOT the case with a lot of my fosters!
Robbie and I headed out Monday evening to Eileen's. Eileen had filled out an application to adopt him, after attending Stand Up for Pits and falling head over heels. We arrived to a wonderfully warm and comfy home where, set up in the living room was a crate and bed for Robbie as well as a huge basket of toys. Eileen lost her Pibble almost two years ago and was so devastated that she was not sure she would adopt again. Eileen's daughter also has a pit so Robbie will have a new friend to play with. Robbie seriously hit the jackpot and it is all because of Stand Up For Pits with Rebecca Corry!