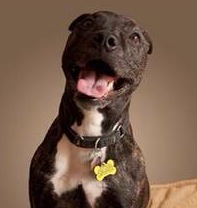 Savannah's journey hasn't been an easy one! The donation we received from the Stand Up For Pits event in Arlington, VA was used to supplement the fund to help Savannah, live a happy, healthy, pain-free life.
Savannah's story began in 2009, when she was born the runt of a litter and needed our help to survive the Parvo virus. Things started to look up for her when she was adopted at the age of 8 months old and became a member of a family. As is the case for a lot of people recently, her family hit some tough times and had to make some difficult decisions. One of those decisions was to give up this precious girl after caring for her for the past 4 years.
After a few days in her foster home, it was discovered that she did not use her back legs properly. X-rays revealed that her knee caps were permanently dislocated on the inside of her knees, called Grade IV Medial Patellar Luxations. She would need surgery in both legs as soon as possible to repair the damage and to regain full use of her back legs. To add to all of that, it was discovered that she has hip problems, as well. She could possibly need hip surgery down the road, but we will have the vet reassess after her knee surgeries. She's had one surgery already, on her first knee, and now that that's heeled, we'll be scheduling her second knee very soon.
Without this generous donation from the Stand Up For Pits Foundation, surgeries like this would have been a huge financial strain on our rescue. Many thanks to Rebecca Corry, Angel and the Stand Up For Pits Foundation.
– The Bully Paws Team
More info about Savannah can be found here:  www.bullypaws.org/animals/detail?AnimalID=1240086
Rescue made possible by The Bully Paws Team