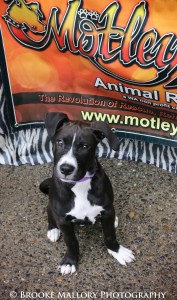 The Flash was a pit bull puppy, like so many, surrendered to the shelter. The shelter he was taken to was a BSL shelter. They do not adopt out any pit bulls regardless of age, and they euthanize any Pibble over 6 months–which is why we need to end BSL! The puppies are more fortunate and are transferred out to rescue or other shelters, which is how Motley Zoo Animal Rescue got The Flash.
At the Stand Up For Pits event, The Flash met his forever family who traveled down from Snoqualmie to Tacoma. They specifically wanted a pit bull puppy to raise. And while there were many other amazing pit bull adults and puppies at the event, including another MZaR Roadie Schechter (who was rescued with 3 siblings at 4 weeks of age from a homeless couple who fed antifreeze to the father and overbred the mother), The Flash's family saw him sitting in front of the Tacoma Comedy Club, and they knew he was the one for them. They didn't need to meet any other pups. It was love at first sight!
Thank you, Rebecca, for letting us be a part of the success of Stand Up for Pits and helping us find another great home for one of our amazing pit bulls!
Rescue made possible by Motley Zoo Animal Rescue