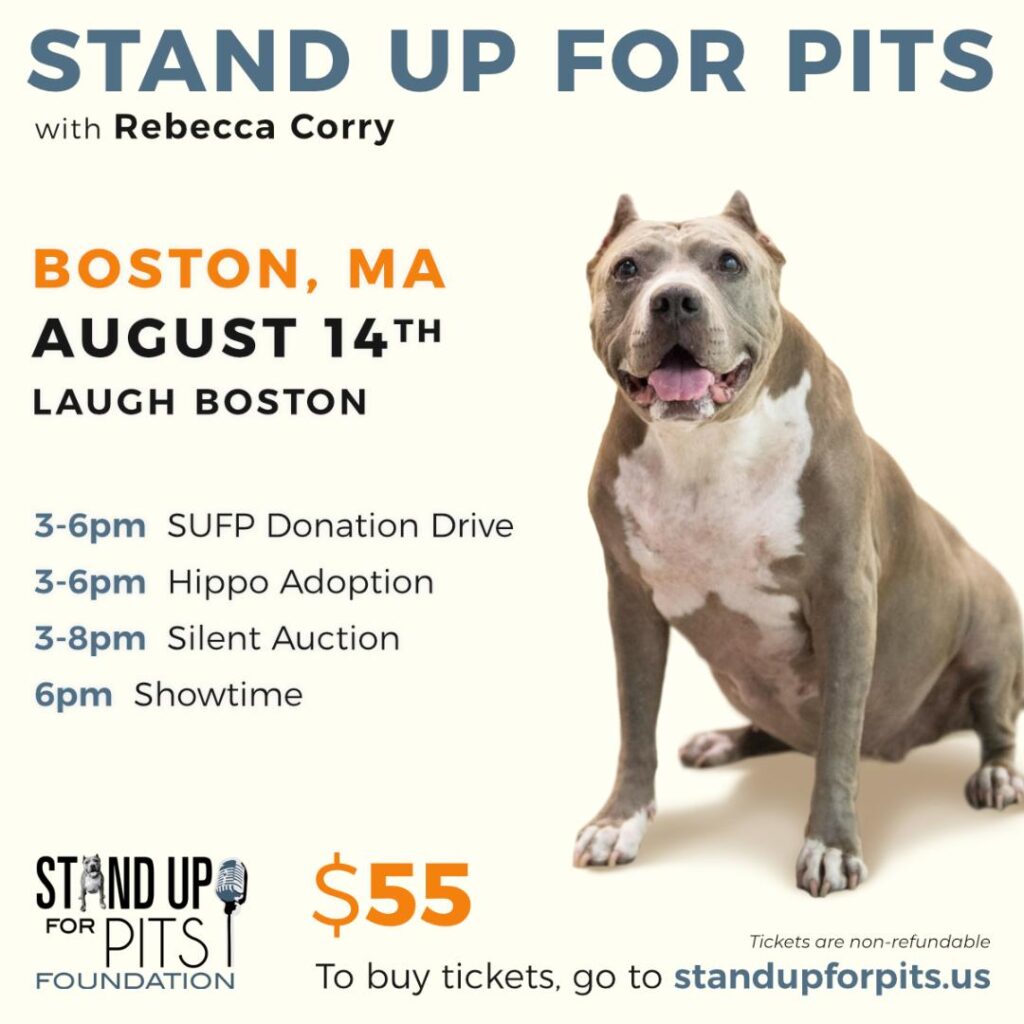 Stand Up For Pits BOSTON happens in a few days!! Performing will be Dan Boulger, Emily Ruskowski, Paul Landwhier, Ken Reid, Josh Day, Sean Sullivan and will be hosted by @mikeruizone!!! You do not want to miss this line up at Laugh Boston while supporting the Stand Up For Pits Foundation, Pittie Love Rescue and the animals at Boston Animal Care and Control. Grab tickets while you still can and come be a part of an incredible night of comedy and fun for the most amazing land seals on planet earth.
🎟TICKETS ARE AVAILABLE ON THE HOME PAGE LEFT HAND SIDE BAR. CLICK "BUY TIX" next to BOSTON under SUFP TOUR!
Repost from Laugh Boston
One of our favorite shows is BACK!
The Stand-Up for Pitts has an incredible line up, as well as silent auctions, surprises, all hosted by fabulous celeb photographer Mike Ruiz!
The Stand Up For Pits Foundation is a nonprofit dedicated to educating, advocating and saving the lives of pit bull "type" dogs. This year marks the 12 year of this national touring event! These incredible events have and continue to save countless lives, help rescues, local shelters and have helped place countless dogs in loving forever homes. In addition to raising funds and awareness these events also include a velvet hippo (dog) adoption, silent auction, merchandise for sale and an amazing comedy show with some of the nations best comedians!
Participating this year will be our dear friends from Pittie Love Rescue! Be sure to follow and support them! IG @pittieloverescue
Coming to the show? PLEASE BRING SOME SHELTER SUPPLIES! These simple supplies are always desperately needed and make all the difference in the world to shelter animals.
#standupforpits #angelforever #boston #sufptour2022
HUGE THANKS to the brilliant comics donating their time and talents to this event, Mike Ruiz for flying in to host and to all who are going to come! Please also bring some shelter supplies and get ready to meet some precious hippos looking for homes and bid on some amazing silent auction items!