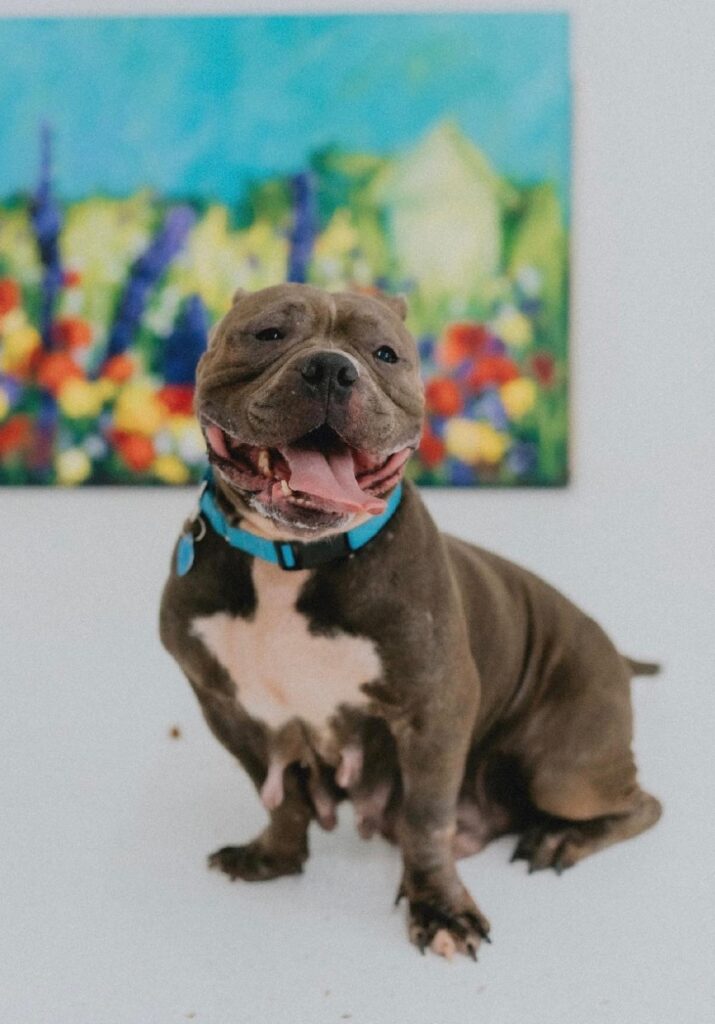 We hear and see it all but this story broke us. They are now Angel Grant recipients. IF ANYONE HAS INFORMATION ABOUT WHO IS RESPONSIBLE and it leads to an arrest or conviction we will give that person a $1,000.00 reward. #standupforpits
"On the 4th of July, a man dressed in American flag gear from head to toe handed over a plastic box and said, "I found these puppies on the side of the road. If you ask me, it's despicable" and walked away. I ran back outside to ask where he found them and the car was gone but dumped in the parking lot was the mom who looked like she had just given birth. She was stressed and jumping on another black car thinking it was the one that left her. One puppy was blue, one had a cleft lip, and all had cuts on them – one was missing part of its ear, there was a deep gash through a tiny paw, and the sick one had what we thought was its umbilical cord attached but turned out being its intestines outside of its frail body. Upon further examination, the mom, Betsey (named after Betsey Ross), has human grade stitches from a home c-section. So she was cut open, her babies ripped from inside her (hence the cuts and torn ear), and immediately dumped like they had to rush to get to a 4th of July bbq. Of the 3 puppies, just one survived. (Unfortunately, as the car was parked outside of camera range we were not able to get a plate number).
Betsey's experience breaks our heart, but she is now & forever safe with @abandonedpetrescue , a true no-kill shelter. Help us find this sweet mom a home! The shelter is at max capacity so please share Betsey's story. She is an absolute sweetheart and loves snuggles and giving out kisses. She's found comfort in her stuffed animal "babies" and carries them everywhere. She is still healing so she hasn't been tested with other dogs but shows no interest in them on walks. She is best in a home without cats. Betsey is located in South Florida and would require a local adopter.
Her surviving puppy is with @themilkdrunkfoundation that so kindly assisted with this rescue because the babies needed extra care and around the clock bottle feeding. Follow their page for updates on when the puppy will be available to adopt.