Los Angeles Stand Up For Pits video by Petworld Insider.  Enjoy!!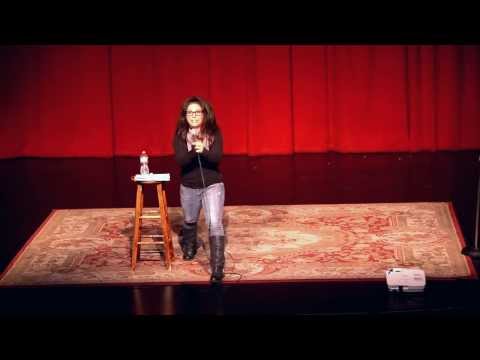 Stand Up For Pits Los Angeles

 

SOLD OUT!!!! 

THANK YOU to everyone who supports this event and who continues to advocate and educate others about our beautiful breed.  Angel, among hundreds of thousands of precious Pibbles are proof of the truth. They are born good and deserve respect and love.   The success of this event and cause is also proof that the hatred and ignorance directed at these voiceless victims will no longer be tolerated.  I'm humbled and honored to be the guardian of the inspiration for all of this and now part of such a strong cause standing along side amazing people and will proudly continue to be their voice until there is no more hate.  If you were not able to attend this year's Los Angeles Stand Up For Pits event you can still donate

HERE

to the cause and please take a second to go "like" the official Stand Up For Pits Foundation Facebook page

HERE

!

slide show by Fusaro Photography

CLICK HERE

to see her amazing work.
With gratitude, thank you.
Rebecca and Angel
Angel makes the Huffington Post for the 3rd time!!  Our nation can no longer ignore the magic that is a Pit Bull Terrier!
Click here to read!!
Angel-front page Good News Huffington Post (August 28th, 2013)
The MARCH ON WASHINGTON and ANGEL make FRONT PAGE of the HUFFINGTON POST! The White House comes out against targeting Pit Bull Terriers and BSL (Breed Specific Legislation) The Huffington Post wanted Rebecca Corry's thoughts on it. "I'm honored to be asked and even more honored to be heard. This is a huge plus for the voiceless victims."-Rebecca Corry
Click here to read!!
Angel-front page Huffington Post with Barack Obama (August 21st, 2013)
The HUFFINGTON POST DC announces Rebecca Corry's plans for the "One Million PIBBLE March On Washington DC" set for May 2014! Click here to read!!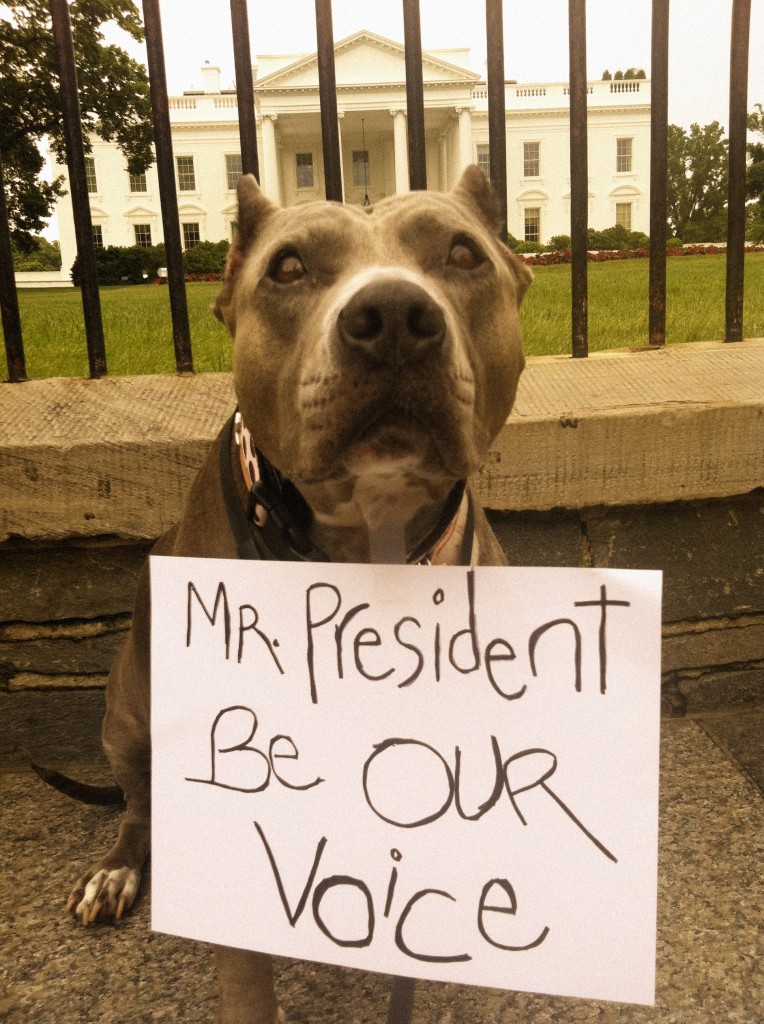 Angel pictured in front of the White House (May 16th, 2013)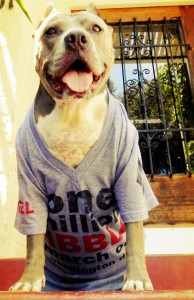 Angel rockin the PIBBLE shirt inspired by her.
The MAY 12th Arlington Va, STAND UP FOR PITS…..

SOLD OUT!!!!!!
Once again the inspiration for  Stand Up For Pits, Angel, brought her magic and it was just that. Magical. SOLD OUT.  Thousands were raised, while laughs and history was made.   An amazing night of like minded compassionate humans dedicated to one cause.  To save, educate and love the beautifully misunderstood and grossly misrepresented precious Pibble.  Stand Up For Pits is simply something that must be experienced to understand the power and positivity of truth.  As you are reading this, lives are being saved who have suffered atrocities at the hands of broken humans because of funds raise by this event.  We as a society will no longer stand for hatred or ignorance against a breed, religion or color.  We must continue to educate with patience and love in order to achieve a better world.  Angel is living proof that doing your part, whether it be adopting, fostering or volunteering…..even for just ONE…can change everything.  Stand Up For Pits is committed to educating and saving this beautiful breed through laughter and positivity.  Educated, responsible Pib owners will tell you, this breed has made them better.  They are teachers of unconditional love and undying loyalty.  They live in the moment with their whole hearts and want nothing more than to please you.  We, as fellow planet dwellers, owe them the same respect.  The precious Pibs would have typed this but they don't have thumbs. KEEP BEING THEIR VOICE! 

The AUGUST 18th Salt Lake City, STAND UP FOR PITS…..
SOLD OUT!!!!!
The first annual Stand Up For Pits sold out two weeks in advance!  Utah Faces and the SLC Pit Crew did an amazing job!  The kissing booth was outstanding and once again…Angel brought her magic.  Thousands were raised and many many laughs were had. THANK YOU SALT LAKE and we will see you next year!!!!